A new year brings with it new social media platforms, trends, and strategies to be aware of. But although many things regularly change in the world of social media, there are some things that somehow manage to remain the same, year after year.
During our second monthly Let's Get Digital panel, we talked broadly about social media marketing best practices going into the new year, unintentionally debunking some long-held social media myths as we addressed the topic from several angles.
Before sharing our biggest takeaways, here's what you'll want to know about the expert panel present at our event:
Introducing: Our Social Media Marketing Experts
Michael Benning, Social Media Director at U of Iowa. Michael leads the organic/paid social media strategy for UI's main accounts. Previously, he led social media at ACT.
Laura Kivlighan, Digital Engagement Manager at Sculpt (yes, one of our own!). Laura has built social media strategies for brands like MidWestOne, George Foreman, Roth Cheese, and Black and Decker Home.
Chris Cozzolino, co-founder at Uptown Creation. Chris manages Instagram and LinkedIn growth campaigns for influencer, personal, and corporate brands.
Now that you've got a taste of the well-rounded social media expertise at this month's Let's Get Digital event, let's explore some of the social media myths they uncovered and explained for our audience.
Myth #1: Facebook/Meta is Overrated & Outdated
We asked our expert panel which social networks they thought were overrated and were surprised when most of them said that they saw Facebook as underrated.
The reason why?
Many members of Generation Z claim that they prefer social networks like TikTok, Snapchat and Instagram. This has a lot to do with the perception by youth that the 'boomers' have taken over Facebook and Generation Z doesn't appreciate the oversight on their online activities. Facebook's lack of love with Generation Z might also have something to do with a higher sense of social consciousness present in the members of this generation compared to older generations, who don't like the direction Facebook is going (privacy concerns, anyone?).
According to Statista, Facebook use is still most predominant between the ages of 18-34: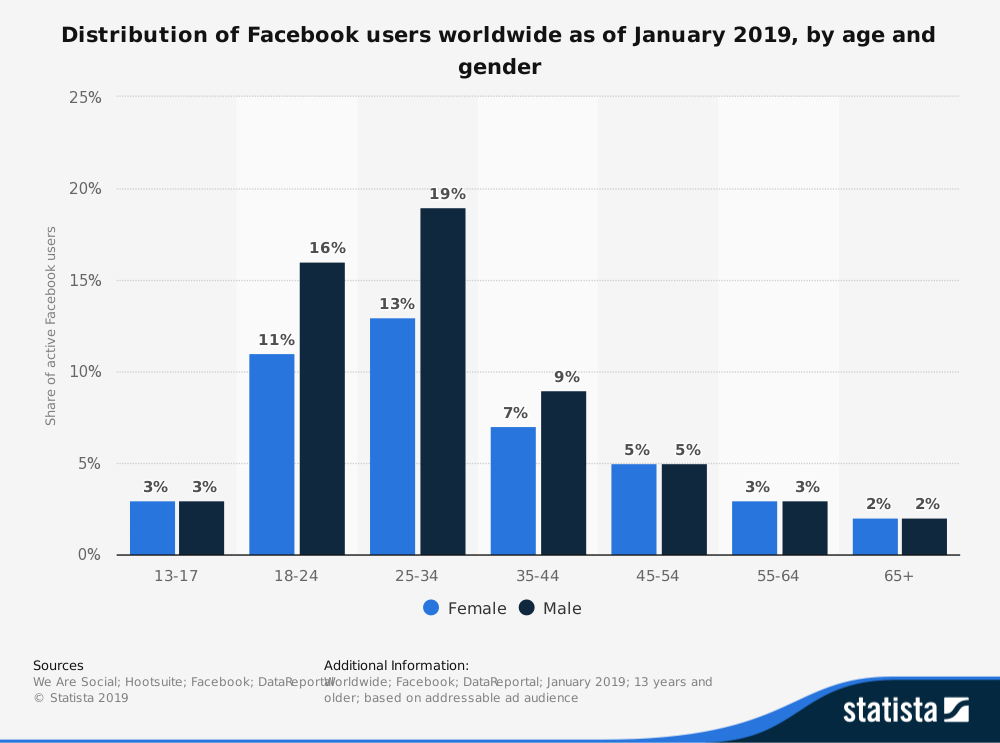 As a sample, when asked point-blank if they log in to Facebook on a daily basis during a University of Iowa class, the overwhelming majority of Generation Z students sheepishly admitted that they do.
Although this data resulted from an unofficial classroom poll (by none other than our own Laura Kivlighan), it's supported by the fact that Facebook's daily and monthly active users continue to grow. If Generation Z was as "over" Facebook as they like to claim with their friends, we'd expect active users to drop.
So from a social strategy standpoint, don't quit Facebook quite yet. It's not going anywhere anytime soon.
That said, our experts predict that Facebook ad inventory is due for a price hike. Instead of sitting around and waiting for this to happen, start investing in an ads strategy now, so that you can take advantage of the ability to build your audience on this platform while it's still affordable.
Myth #2: Scheduling Content Ahead of Time is the Gold Standard
We asked each of our panelists, "What's performing well in social media marketing right now?"
Each one answered with some variation of, "Timeliness."
More specifically, the tactics they recommended include:
Tying content back to real people and events happening in real-time to increase engagement.
Using timely memes to get attention and encourage laughter (with the implication that these content shares will likely lead users to tag a friend in the comments section).
Betches is a great Facebook account to follow regarding the use of timely memes to increase engagement.
Incorporating Instagram Stories into your content strategy if you haven't yet, because this content format isn't confined by the issue of organic reach that most social networks are now plagued with.
Speaking of Instagram Stories…
Myth #3: More Content = Better When it Comes to (IG) Stories
Our panelists vehemently advocated for brevity when it comes to using Instagram Stories (or the Stories feature on any platform where it's supported): both in terms of the length of copy and the length of connected posts.
Specifically, they recommended limiting the use of copy within Stories to 50 characters (so save your Notes app screenshots as an organic post in the feed).
And if you're going to post multiple Stories in a given day, that's generally found to be good from an engagement angle… up to a certain point. Panelist Chris Cozzolino recommends against having an Instagram Story that's upwards of 20 posts, but has found Instagram Stories with 4-6 posts to be a sweet spot for the brands his company serves.
An interesting Instagram Stories feature worth exploring is Story Highlights, which allows you to keep otherwise ephemeral content active on your Instagram profile past the regular 24-hour time period. Use it to draw attention to Stories content that's gotten great engagement or brand initiatives that you want to highlight.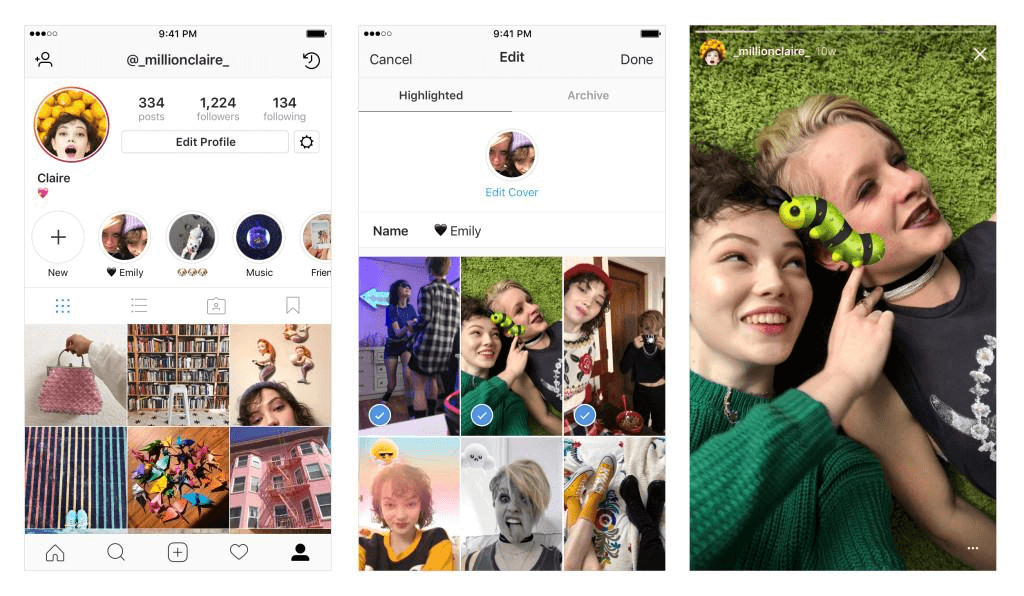 Sculpt's Laura Kivlighan recommends using Instagram Stories as a way to get more life out of cornerstone content on another channel, like an in-depth blog post. Like pinning a post to the top of LinkedIn, Twitter, or Facebook, Story Highlights might be Instagram's solution for drawing extra attention to content on the platform.
A few additional features to explore for increasing engagement on Instagram Stories include the countdown timer sticker, polls, and yes — even hashtags. There are so many ways to get creative — Kivlighan suggested using the countdown timer as a way to announce an upcoming Instagram Live event, to increase attendance.
If after incorporating some of these ideas, you're still struggling with success on Instagram, consider one additional idea for increasing engagement: cross posting to IGTV. Cozzolino recommends checking out Evan Carmichael as a case study for success.
On that note…
Myth #4: Video Marketing is a Trend
We asked our panelists, "What is the most interesting social media trend on your radar for 2019? Or in future?"
They couldn't stop talking about vertical video.
To be sure, it's a new frontier and best practices are still being developed. As we test this out for our clients, we'll keep you posted on what's working and what isn't.
In the meantime, why not test it out for your brand?
With TikTok top of mind, it seems safe to proclaim that video marketing is no longer just the trend of 2018 (and every year): it's here for the long haul.
LinkedIn made huge headway towards relevance when they announced support for live video on the platform back in 2019. Our panelists mentioned this as a big win not only for B2B brands who want to take advantage of the format but also individuals who seek to spread thought leadership on their own personal pages (no separate LinkedIn brand page required!).
Myth #5: Brands Have More Influence than Individuals
Ok, this might not be so much a social media myth as it is an eye opener brought to us by our expert panelists.
We asked, "What brands do you follow because you like the way they engage their customers?"
Though answers included brands like Birddogs (which are like Chubbies for people who like to go commando) and sports teams like the Chicago Cubs, we were surprised to find that individuals, not brands, were the main source of inspiration for our panelists.
Though she didn't name any particular individuals, Kivlighan mentioned how she refers to fashion bloggers when she's looking for outfit ideas. Then, Gary Vaynerchuk came up and it wasn't the only time his name and social media empire were mentioned during this event — our panelists recommend checking out his $1.80 strategy for some solid Instagram growth advice.
So why is this?
Put simply, it's hard to connect with a faceless organization. People have an easier time connecting with people over brands. The takeaway here? Elect someone as the public face of your brand (or create a character like Flo from Progressive, or Jake from State Farm), to ease the friction that might otherwise exist for customers who want to engage with you.
It's worth also mentioning the unsung heroes of social media engagement: your local government and public departments. I mean, who else can get away with posts like this: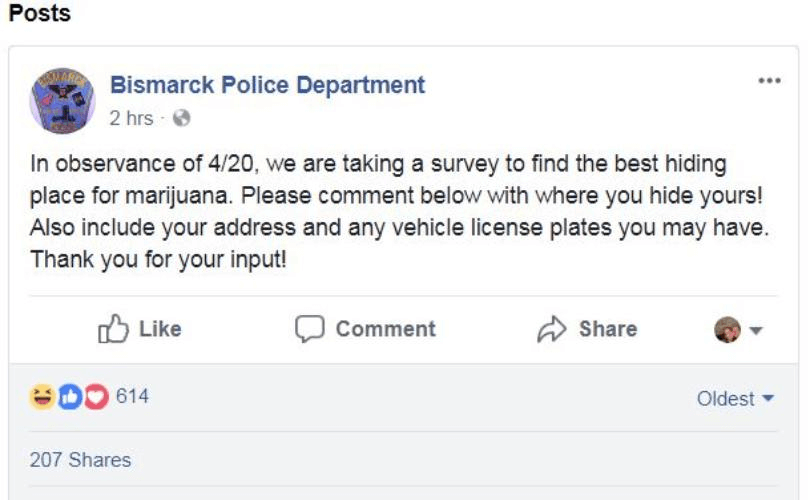 Since engagement was a major focus of this event, it's also worth mentioning the idea that "the content is in the comment".
One of the biggest social media myths (applicable to higher-level content marketing, as well) is that you always need to be creating fresh content to affect reach and engagement. But if you're the person with the funniest, wittiest, most clever top comment on someone else's post, you can also find success in driving social media traffic to your brand.
Because the idea behind it is so widespread and misunderstood, let's dig into this social media myth a bit deeper:
Myth #6: To Find Success, You Have to Create a LOT of Content
We asked our panelists, "How can I do more with less time? What are your best time-savings hacks or tools?"
Our panelists shared two solid strategies for being more effective with less time: content curation and content repurposing.
Content curation involves sharing other people's content on your social channels (or on other outlets where you connect with your audience, like email).
Stackla was mentioned as a paid solution for easily curating content. If you want to learn more about even more available options on the market, check out Curata's list of content creation tools.
It might seem counter-intuitive to promote someone else's content on your own social channels but try considering it from the user's perspective.
No one wants to hear only your voice all the time, so sharing other content helps add diversity to your messaging. Additionally, sharing content from multiple sources turns your social feed into an industry resource — not just your brand's promotional mouthpiece.
Repurposing content is another smart strategy for savvy social media marketers that want to maximize their social media budgets. Say you've just written a long, in-depth blog post and you want to do everything you can to make sure that this was time well spent. Repurposing this content across various mediums and social channels is a great way to ensure that your followers (and potential followers) see it and act on it.
Stepps shares tips for how to turn one piece of content into five.
Myth #7: It's Ok to Just Get Started without a Plan
As the saying goes, a failure to plan is a plan to fail. You already know this. It's not so much a social media myth as it is a reminder of the power of planning.
We asked our panelists, "What is one piece of practical advice you would give to someone starting out with social for your area of focus?"
Each answered with a variation of "Start with the end in mind — your goals for using social media." On that note, create strategy documentation that you can refer back to, making sure that your efforts are always aligned with the purpose behind being on social media in the first place.
On the way to building a social media strategy, answer the question, "Who is my audience?" and "What channels is my audience active on?". From there, determine what unique features on each social channel will be useful for achieving goals (like the ability to target paid ads so specifically on Facebook).
When it comes to creating content, ask yourself, "What can we say of value to someone that they'd want to interact with?"
Finally, if you get stuck when it comes to developing an initial strategy, use your resources. Marketers give a lot of information away for free online. So start with a Google search, ask questions (one of our panelists suggested forums like BlackHatWorld and NP Social), watch Youtube videos, and reach out to people in the space who know more than you. Don't forget to test your hypotheses and refine your approach based on what you learn!
Before you launch, make sure that everyone on the team is aligned in terms of what metrics to measure to determine success.
Myth #8: Every Brand Should Use the Same Measurement Metrics to Determine Success
We asked our panel, "What should people be measuring? What are you reporting up? How do you measure ROI?"
They shared dozens of metrics to think about, including:
Impressions
Reach
Video views
Website traffic
Clicks
Engagement
Conversions
Customer lifetime value
Time spent on page
But they also mentioned the fact that the specific key performance indicators (KPIs) you measure are highly dependent on your brand's specific goals with social media. Inevitably, what's important to you is going to be different than another company, perhaps even one in the same space.
While you're thinking about measurement, don't forget the implications of your attribution model. Most people won't buy with their first exposure to or interaction with your brand. Even if you're not involved in sales, you should still be familiar with your company's sales process and how many touches it takes to get a conversion, on average.
Since gathering these metrics is annoying and largely unproductive, automate monthly measurements with a tool like Cyfe or by connecting social accounts to social scheduling tools with analytics functionality, like Hootsuite, Buffer, and Sprout Social.
Final Thoughts: 8 Social Media Marketing Myths We're Debunking
Even though we live and breathe social media on a daily basis, the team at Sculpt took a lot away from this expert panel — including a little bit of social media myth busting.
For those who didn't make this event and want to hear advice straight from the mouths of our panelists, check out our video recording of the occasion. We'd love to see you at the next event, so sign up for updates to stay in-the-know.