Growing a personal brand audience is much, much easier than growing a professional page. Why? The algorithm weights content from people more favorably than pages. That's no secret.
Here's how you cope.
27 Legit Ways to Grow Your LinkedIn Company Page Followers & Engagement
First, let's start with unpaid tactics. Some of these will be quick wins with immediate results where others may take sustained efforts over months for a payoff.
14 Organic Tactics to Grow Your LinkedIn Audience
Using employees and their network to grow your LinkedIn audience
When employees post, they reach more people than the company page does. It's easier to grow your LinkedIn following by tapping into your employees' networks than just starting from scratch. Here are a few employee advocacy tactics to add to your LinkedIn toolkit.
1. Make sure all employees connect their profile to the Page properly.
It's an easy but often overlooked part of setting up your LinkedIn profile and should be part of your profile best practices for employees.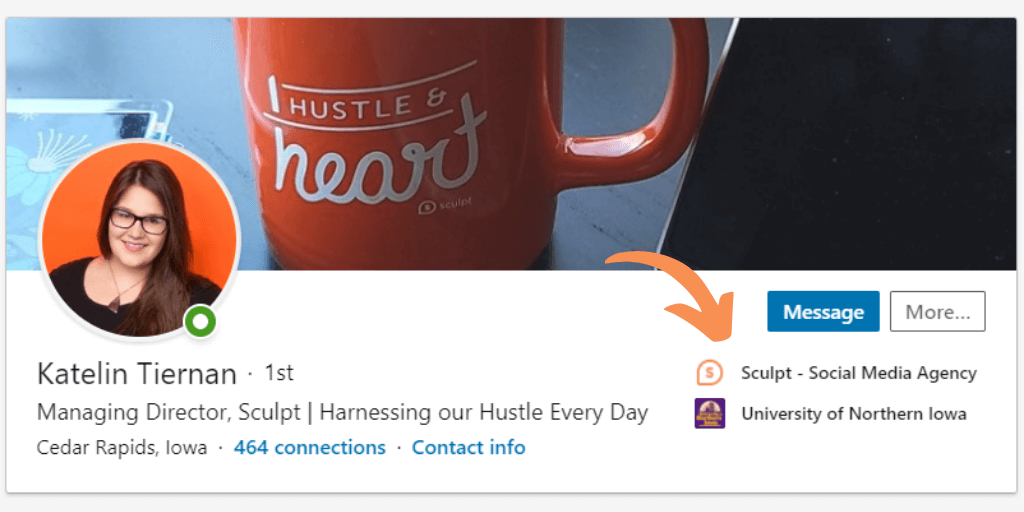 Not sure how? Check out LinkedIn's quick explainer.
2. Have select employees invite their network to the page manually.
You know what doesn't work? Cold inviting people to like your company page. If you've ever received such an invite, you know exactly how jarring and off-putting it can be. Not the kind of first impression you want to be making.
Instead, leverage your employees' networks — aka people who already know and trust them instead of random strangers who have no prior experience with your company. You can invite up to 100 per day.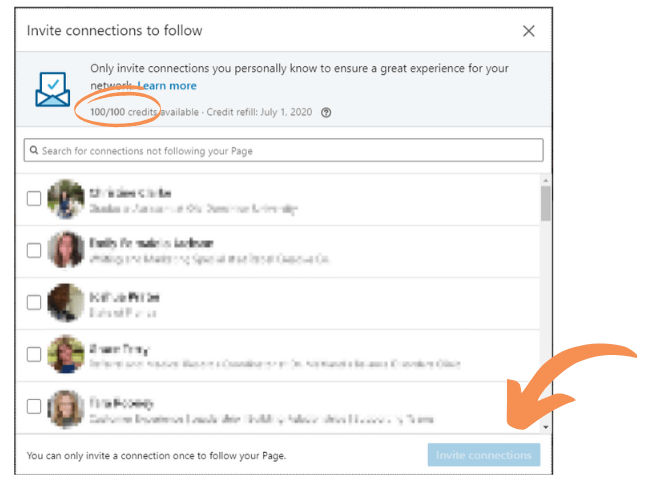 3. Add LinkedIn page links to everyone's email signature. 
Since you're already speaking with customers and prospects, this is a perfect and unobtrusive place to drop a link to your company page.
4. Have key employees reshare your content.
We've talked about using OPA (Other People's Audiences) before and it's no different on LinkedIn. Encourage key employees to share to their own network — key employees could be anyone on your team from founders, senior leaders, sales, or anyone in HR or customer facing, depending on the content they're sharing.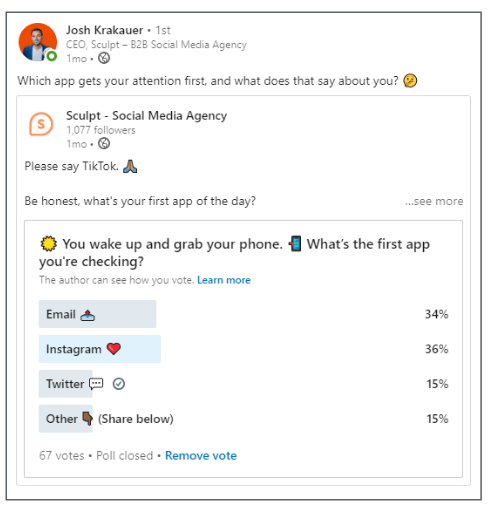 To facilitate this process, you'll need to notify them whenever there's a new post. Speaking of which…
5. Turn on employee notifications for new posts.
Using this native LinkedIn feature the next time you post will send a notification to all employees who've connected their accounts the next time they log in (see step 1: connect your profile). Or you can keep dropping the link to your latest LinkedIn poll in Slack and tagging the whole channel and they can keep ignoring you.

6. Have key employees post original content.
Another way to access OPA is to share your employees' content instead of the other way around. In addition to leveraging their network, you're also positioning your employees as experts in their field and elevating their voices. This is particularly key at the executive level.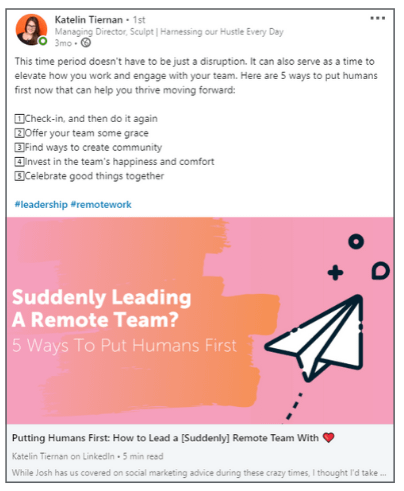 Using content to grow your LinkedIn audience:
If your content doesn't elicit a response, you won't reach past your owned audience. That means your audience isn't growing. Here are ways to improve your content to earn reach — organically.
7. Create engaging video content.
Why video? Not only is video a powerful tool for digital marketing in general (84% of buyers cite branded video as a major factor in their decision to buy), it's also specifically beneficial on LinkedIn.
The algorithm tips dramatically in favor of video content, a fact that is supported by the rise of video content on the platform and the 87% of marketers who report LinkedIn video as an effective part of their channel strategy. You can use video for a variety of applications, from product demos to case studies to behind-the-scenes series — it's up to you.
Remember to optimize for mobile, since that's where the majority of your audience is.
8. Ask more questions in your posts.
A perhaps straightforward but effective way to elicit a response to your content is… to literally ask for one. You can do this either by incorporating the question into your post copy or your creative (graphic or video), or by using the new native LinkedIn poll feature we've all been waiting for that's finally arrived. 🙏
9. Answer all of the comments to keep conversation streams active.
Your LinkedIn feed is not chronological; instead, you're shown posts based on an algorithm. How does the algorithm determine which posts are useful and popular enough to show (and keep showing) on your feed? A number of factors but engagement metrics are high on the list — including comments. So if you're not responding in the comment section of your posts, you're letting valuable, algorithm-signaling engagement go to waste.
Also, it's just good online etiquette. You've invited your audience to have a conversation with you; don't make them feel like they're talking to a brick wall.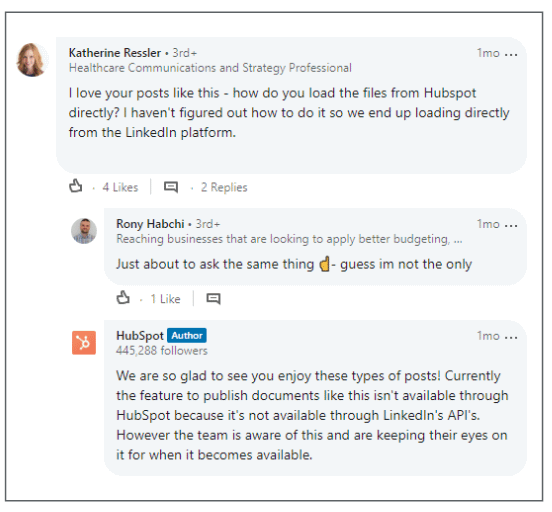 10. Respond proactively to community hashtag content from the Page.
You can follow up to three community hashtag topics from your LinkedIn company page. Similar to following a hashtag on Instagram, you'll see trending content from those tags in your feed and be able to respond to those posts as your page.
Think of it this way: the comment is the content. So approach it the same way you would writing a post for your page and make a good first impression!
11. Use relevant hashtags in your posts.
Hashtags have been around almost as long as social media as we know it, although you might not have seriously considered them in the context of LinkedIn before now. But they're still a valuable tool for search.
A few guidelines to follow: Don't go overboard. According to Hootsuite, sticking to 3-5 hashtags per post is best. Make sure you choose relevant, specific hashtags. There's a sweet spot between too obscure and too general that will be your niche.
12. Mention people in your posts so their followers see it.
Get your content in front of new eyes by tagging someone — ideally someone influential or relevant to the content — in your post.
You can even shape your content strategy to do this more frequently and effectively. Include roundups and interviews in your content planning so you improve your chance at reaching other audiences.
13. Stream with LinkedIn Live.
We already touched on why using video in general is important, but LinkedIn's new live feature is another excellent tool to up your game.
According to LinkedIn, live videos generate 7x more reactions and 24x more comments all other factors being equal. LinkedIn Live supports a variety of third-party broadcasting tools and operates similarly to other live stream platforms like Facebook and Instagram.
With current social distancing regulations and precautions, live video is an even more effective tool for building up your online community in lieu of in-person events. This makes LinkedIn Live ideal for migrating any live events you had planned or adapting serial content that might be difficult to pre-record and produce with a remote team. If you choose to do a recurring segment, make sure to go live at the same time every week, two weeks, month — however often you'll be live streaming.
Having a consistent schedule will make it easier for your audience to find, watch, and engage with your live content.
14. Post content around LinkedIn trending topics to surface in those results.
Building ad hoc content around trending topics shouldn't make up the bulk of your content strategy, especially if you don't have anything new to add to the conversation. But if you're looking to reach beyond your current audience, posting about trending topics is one solid way to get your content in front of new eyes.
How do you know what's trending on LinkedIn? The "Today's News and Views" feed (which used to be known as "What People Are Talking About Now") will give you a general view of trending topics on the platform. For more niche specific topics, monitor hashtags relevant to your industry.
It's important to choose a topic that a) you are knowledgeable about and b) is relevant to your brand and your audience. For example, if you're an e-commerce software brand, your followers might be confused if you pop off about HR best practices. 🙃
15. Building up your employee advocacy and executive social media program
An employee advocacy program uses the employees of your company to promote the organization with their own social media accounts. Using in-house brand ambassadors to drive traffic, grow and boost your brand on LinkedIn is a powerful growth tactic.
Starting an employee advocacy program on LinkedIn helps you merge two of the most impactful forms of marketing: the reach of social media and the power of referrals.
You should also leverage the personal LinkedIn profiles of your executive teams and formalize it with an executive social media program. Execs function as both brand ambassadors and thought leaders—building trust, credibility, and extending reach in a way some employees can't.
Some Quick Tips for Your Executive Social Media Program
Aim for authenticity.

Commit to a posting schedule.

Respond to recent events.

Repurpose existing content.

Provide real value.
Tips for Your Employee Advocacy Program
Make sure everyone has an updated profile.

Develop templates for your employees to use.

Train employees on how to talk about the company.

Showcase employee work, projects, and achievement for them to share.