The best place to get good social media content ideas is directly from the playbooks of the pros. That's why we've put together some of the best posts, ads, and accounts for you to peruse.
Bookmark this page or steal the examples you like the most for your swipe file.
Don't have a swipe file? We've got you covered. You can grab our free template here or read our post about how to make your own. Like this post, it's full of examples of B2C and B2B social media inspiration, so there's something for everyone.
Here's how we're breaking up this post:
Alright, now on to the #inspo.
Organic Social Media Examples
1. Later – Distilling Large Ideas for Social
Later breaks down social media trends, tools, and tactics in easy, bite-size lessons for their followers.
What we love about this post:
Creative – The graphic makes the most of the carousel format, drawing the reader's eye through the slides. It's bright and fun (which is very on brand) but not overly crowded; the image text is easy to read and simple.
Copy – Both caption and image copy illustrate the value of the feature.
Content – This post provides educational value to the audience while still promoting Later's new feature. In other words, it's useful. It's also easily digestible which makes it appropriate for social.
2. HubSpot – Timely, Relatable Content
HubSpot consistently nails timely content on their Instagram page.
What we love about this post:
Creative – Colorful, on-brand, and most importantly visually familiar, this graphic is an excellent example of how to use design as visual shorthand. Before even reading the caption or the image text, the audience knows this post is full of resources.
Copy – The copy is compelling and relatable. It acknowledges the opportunities, outlines their game plan for overcoming said pain point, and delivers on the initial promise of a helpful resource (implied through the graphic format) with a closing CTA.
Content – Timely content still needs to be useful content. Instead of making a blanket statement about "unprecedented times" without providing any value, HubSpot took the time to listen to what their audience needed, develop resources, and deliver those resources in a helpful, human-focused way.
3. Shopify – Using Existing Assets
Like many companies, Shopify has had to pivot its content strategy for its business expansion. Take for instance this cross-border selling video:
What we love about this post:
Creative – Shooting new footage for market expansion is complex; Shopify exemplifies how to make a big announcement without sacrificing quality. We're also a fan of how they've synced the visuals and the beat for maximum impact.
Copy – Both the post copy and the video text are simple, clean, and effective. It blends audio and text very well. The video text doesn't distract from the visuals, is easy to read, and makes the voice-over accessible for hearing impaired viewers or just people who don't ever turn their sound on… like us. 😅
Content – Shopify frames their cross-border selling in a refreshingly optimistic, forward-thinking light: this isn't an unfortunate temporary solution. It identifies every possible challenge and shares helpful tips with its users in simple trends. That tone shift is what makes the video so effective.
4. Taboola – Putting a New Spin on Slideshow Videos
Social video doesn't have to be complicated to be inspo worthy, as Taboola demonstrates with this service promo.
What we love about this post:
Creative – The video format doesn't have to be anything ground-breaking or complicated if the quality is there. Stripped down, this is just a simple slide show with overlay text but the graphics are creative, engaging, and just plain pretty. That's enough to take this slide show to the next level.
Copy – You'll see us mentioning this time and time again in this post, but it really is the hallmark of good social copy – simple, direct, and easy to read.
Content – Taboola highlights the value of their service with both the copy and the creative. They tell the viewer that they can reach audiences on "the world's top websites" while showing them what that could look like on those very websites.
5. Jacksonville Jaguars – Finding Creative Ways to Engage
We've talked about this before, but if you're looking for creative, effective ways to engage on social, look to your favorite sports teams.
Like the Jacksonville Jaguars.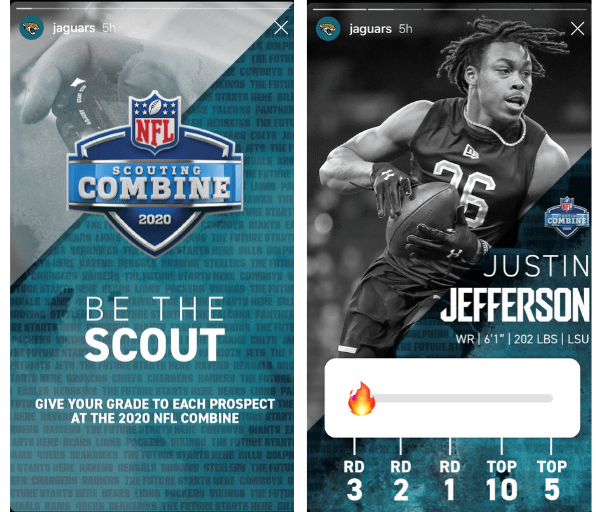 What we love about this post:
Creative – The emoji slider against a graphic is a very simple but effective concept to drive engagement.
Copy – "Be the Scout" is both the content series title and a CTA that sets the audience's expectations for the following images in the Story. The subtitle fills in any blanks.
Content – There are two things happening here that made this Story stand out to us. 1) The use of one of Instagram's interactive Story features. They're there for a reason – to drive higher engagement. And 2) a multi-part Story. Compel your audience to stick around and tap through for more content instead of scrolling on to the next Story in their feed.
6. Shipt – Highlighting Humans (Part 1): Team Member Spotlight
Behind-the-scenes style content humanizes a brand. Shipt does a good job of this with their employee highlights as part of their employee advocacy program.
What we love about this post:
Creative – The image quality is great and the subject stands alone, without products or props cluttering up the frame. While it seems almost too simple, it doesn't need to be any more complex than that – posts with human faces in them do better on average than other photos.
Copy – The copy tells a compelling story and encourages the audience to respond with a simple but effective CTA.
Content – This post turns the spotlight on their employee's accomplishments while also showcasing how Shipt is an integral part of her success.
7. HubSpot – Highlighting Humans (Part 2): Employee Takeover
HubSpot has made employee takeovers a regular part of the content on their employee life IG account.
What we love about this post:
Creative – Do you know what performs almost as well as images with humans in them? Pet pics! This post features both. One gold star sticker for HubSpot.
Copy – Because this is not just an employee spotlight but a takeover, writing the copy in first person makes it feel immediately casual and personal. This isn't a post from a faceless brand logo; it's from Mariel, the awesome developer with the cute cat.
Content – Serializing employee takeovers or any behind-the-scenes content 1) fills up those frustrating, blank days in your social media content calendar. You know the ones. And 2) positions your employees as experts in their fields, elevating them and highlighting the awesome talents of your team.
8. Gary Vee – Using Image Text to Drive Traffic
One of the most important parts of publishing a LinkedIn article is the header image. It needs to grab attention and inform, since there's no place to write description copy.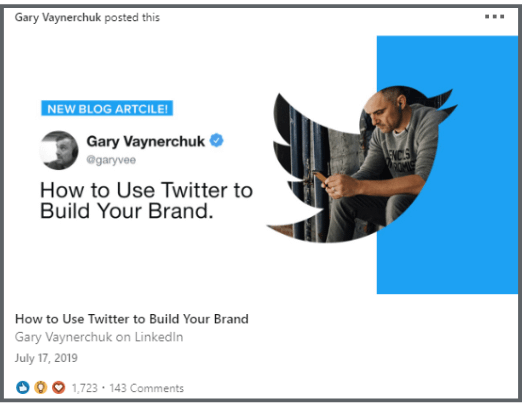 What we love about this post:
Creative – The clean, eye-catching design doesn't distract from the text but rather amplifies it. Everything about the graphic is designed to inform the reader at a glance what the article is about and who it was written by.
Note: Yes, there is a small typo in the headline. Perfection isn't necessarily a determining factor in whether or not a post will perform well. Which is a relief, since no one's perfect, not even Gary Vee. 
9. Amgen Oncology – Engaging the Audience with Quizzes
It is a truth universally acknowledged that a person in possession of good WiFi must be in want of an Internet quiz.
Seriously, though.
Quizzes are fun and therefore engaging. You can use built in poll features or get a little more creative with the format like Amgen Oncology does here.
What we love about this post:
Content – The content format is the clear winner in this post. Reveal-image style posts still work as Twitter quizzes and they're super-compelling.
10. Pantone – Leveraging User-Generated Content
Pantone excels at the strategic use of User-Generated Content to build a stunning feed.
 

View this post on Instagram

 
What we love about this post:
Creative – Pantone's entire Instagram content strategy is built on choosing aesthetically pleasing, high-quality UGC like this. The bright colors grab audience attention in the feed.
Copy – Short, punny copy doesn't detract from the image, which is the star of the show here.
11. No Name – Relatable Humor
People go to social media to be educated, distracted, and entertained.
No Name entertains and provides value through humor.
What we love about this post:
Creative – Like Pantone, the colorful graphic grabs attention in the feed, but for anyone familiar with the brand, it's also immediately recognizable. Simple, clean black lines, bright yellow. 100% on brand.
Copy – Both the post copy and image are text are minimal, but that's part of what makes the post so funny. When it comes to humor, less is often more. Don't explain your jokes. Please.
12. Canva – Repurposing Zoom Footage
2020 threw a wrench in many of our content creation plans in more ways than one. But your continued commitment to a responsible remote work environment in 2021 doesn't have to come at the expense of making great social content.
Check out how Canva repurposed a recorded video chat to create an entertaining series for their Instagram audience.
What we love about this post:
Creative – While Canva isn't a video editing software, this looks like it could have been made in Canva (in the best way). The video feels very on brand and polished despite the use of webcam footage. The yellow and purple background division is eye-catching and fun and the imperfect shapes used for the speaker bubbles adds to the DIY, almost scrapbook-esque style.
Concept – We're a fan of episodic content for social and this video series is the perfect intersection of educational and entertaining. The creative use of Zoom footage is also refreshing to see.
13. Taco Bell – Jumping on Silly Trends
Trends aren't new to social media, but TikTok exploding onto the scene has definitely changed the way we consume trending media. New trending formats are cropping up constantly which is actually great news if you're a brand looking for some content ideas to improve your social media strategy. 👀 Of course, brands jumping on a trend can sometimes feel forced or cringey.
But with the right timing and a heavy dose of not taking yourself too seriously, it's possible to get it right like Taco Bell did.
What we love about this post:
Concept – The idea behind this announcement is pretty standard stuff: Taco Bell got a lot of feedback about their decision to cut potatoes from the menu, so this is a response to that feedback. The format of that response, though, was key. Using the silly filter, having the announcement come from the CEO, and copying popular editing styles from other viral content all works together. It's fun to watch, it's shareable, and it's absurd enough to be memorable.
14. DGMG – Repurposing Podcast Content
You know we're fans of making your content work smarter, not harder. For example, reformatting, repurposing, and reposting podcast content is a great way to fill out your content calendar and promote it on your other channels.
Dave Gerhardt does that with his marketing podcast.
What we love about this post:
Creative – Audiograms are a pretty popular way to repurpose podcast content, but they're often not very visually engaging. Gerhardt gets around that by adding a few simple elements: the cutout of his face, the lightly animated captions, and the CTA in the footer for the whole video. Together, these elements grab and hold the viewers attention in a way that just the audio waveform in the background couldn't do on its own.
15. Zoom – Sharing Pro Tips for Users
Showcasing product features on social is a great way to interest prospective customers and provide value to existing customers.
And yes, this does work for SaaS brands, too, as Zoom proves.
What we love about this post:
Creative – This video is just a lightly edited screen recording, so nothing fancy, but it doesn't need to be. We like the clean, branded border but the real value is in how the video walks the viewer through the entire process of where to find the feature and how to use it from both the host and participant views.