2. HubSpot – Timely, Relatable Content
HubSpot never misses. In this post, they leverage several content marketing practices that we can't help but admire.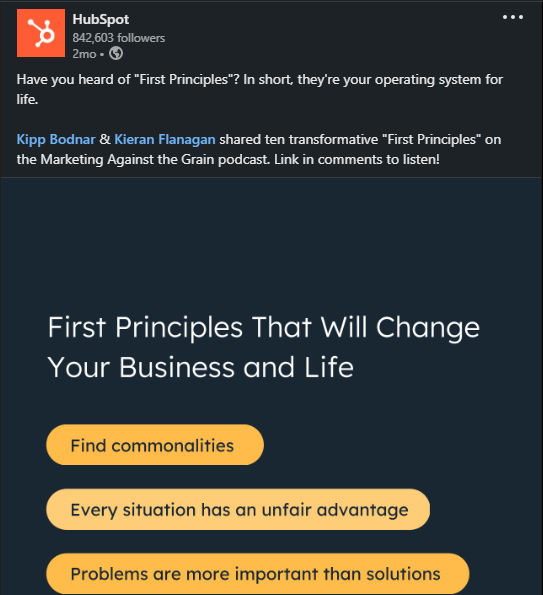 What we love about the post:
Creative: HubSpot came in with a captivating rage, which sure worked on most of its audience. Questions are always catchy, and matching a compelling caption with resourceful graphics is powerful.
Copy: The copy is all shades of "personal" and "points." Copies that emphasize what readers gain are more successful. The post categorically mentions the reader's life and business and gives relatable points in a visually compelling way. What's more awesome? Starting with a captivating question and ending with an engaging one, the copy asks the audience about their take and what applies to them. This puts the reader in the engagement mode – one of the ultimate goals of a copy.
Content: The post didn't target only the corporate field. It considers the reader's personal life and seeks to grow their Business almost equally. This is exemplary as it shows that the brand understands the different needs of its audience, among which are business and personal life growth.
3. Shopify – Using Existing Assets
There's a resonating engagement with services that leverage existing assets. Shopify's content strategy is full of surprises, and the audience isn't ready for it.
Creative: Shopify is leveraging existing assets, being creators, to boost the satisfaction of its audience.
We love that this idea is human-centric and has no limit to how much sales and recognition it can drive for Shopify users. That's awesome, but other creatives may find the copy more intriguing. What's there?
Copy: Kickstarting the audio-visual content with happy faces and an engaging background sound, Shopify lights has us wondering what pops up next. It's a market-oriented fact that the audience can relate to – hardship in finding new customers. The video and post text sync, and the audience can find the critical keywords labeled around the post: Shopify collabs for Merchants.
Content: This post is one of several unique angles to increase user satisfaction. The content shows that Shopify understands the audience's pain point and is helping them by leveraging existing assets to improve their sales and reach.
4. Taboola – Putting a New Spin on Slideshow Videos
Taboola takes a different approach to resound its efficiency to its audience. Picking on a product, Taboola reminds us of the unrivaled power of no-sound video ads.
What we love about the post:
Creative: Video ads are gaining more popularity in the social media strategy space. Especially suitable for its Do Not Disturb audience, you don't need to use the volume key to scoop the content of this post. With compelling graphics, mouth-watering images, and a sprinkle of social proof, here is an orientation of the copy.
Copy: The text and video-based copy call attention to the platform's strength. It unanimously informs the audience of what they stand to gain by leveraging Taboola. The team leverages social proof by using figures, which may switch on the interest button of potential users.
Content: The post comes in with a season, and that's pretty much relatable. It further holds the reader's interest with a clear, no-sound video showing the product's impressive performance on their network. Quite encouraging!
5. Hootsuite – Finding Creative Ways to Engage
Social media posts can be as much fun as educating. Hootsuite creatively relates this while marketing itself. We tried not to laugh too hard and couldn't help but notice the strategic moves in this post.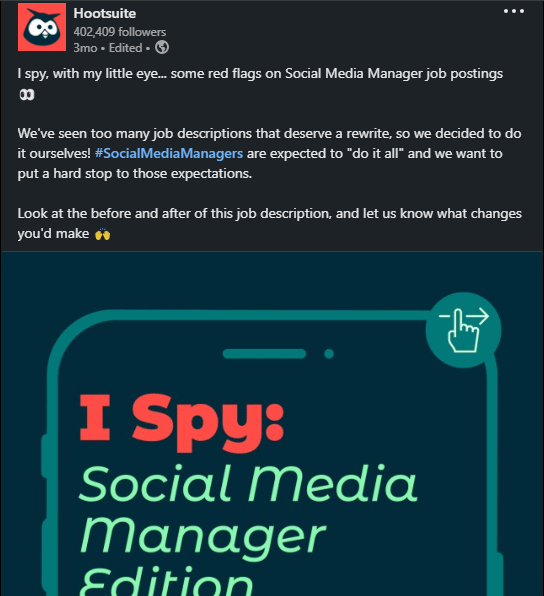 What we love about it:
Creative: This post is nothing short of creative communication. It teaches the audience tips on the job (writing) and the common mistakes to avoid.
The post uses slides, and it's more compelling to find that the perfect job fits neatly into a slide.
Copy: Using a captivating introduction, the post steals the attention of HRs and organizations. Communication is critical, and we don't have to wait for the pros to handle the basics. We love how the post singles out errors without necessarily making a mess of the slides.
6. Shipt – Highlighting Humans (Part 1): Team Member Spotlight
The human angle will always matter in Social Media Strategy. Shipt understands this and leverages humans as recipients and facilitators of its services.
Here is what we love about the post:
Creative: Using just two frames tells the simplicity of this post. Humanity resonates with it, as evident in the text and graphics.
Copy: The text welcomes us into what Shipt is doing to improve humanity in partnership with the highest reputable authority- the government. It goes further to show its moves in an easy-to-follow graphical illustration.
Content: The post banks on the conference to announce a part of its multidimensional service to shoppers. In doing this, the message scores two points – calls attention to Shipt's Corporate Social Responsibility and boosts brand reputation.
7. HubSpot – Highlighting Humans (Part 2): Employee Takeover
We love strategies that create space for humanity. HubSpot lets us know it's not all about conversions and monetary gains but human growth and development, even in-house.
What we love about the post:
Copy: The copy is straightforward, and we can see humanity around it. It communicates HubSpot's weight and investment in its Engineers, but what's more intriguing is how the copy promotes Built-in as a career grooming brand while hinting at the work culture at HubSpot. Awesome!
Content: We can say HubSpot knows the attention-grabbing game too well. Leveraging the "question intro" again, this post's content steals the audience's attention. It lands them onto a new entity they probably weren't expecting to be featured – BuiltIn. This is a people-focused post; we love that it has a male and female figure, just enough to tell a workplace vibe.
8. Gary Vee – Using Image Text to Drive Traffic
Gary tells us image text can be a captivating communication strategy. But this particular post is not ordinary. We singled out its uniqueness and its all shades of engagement.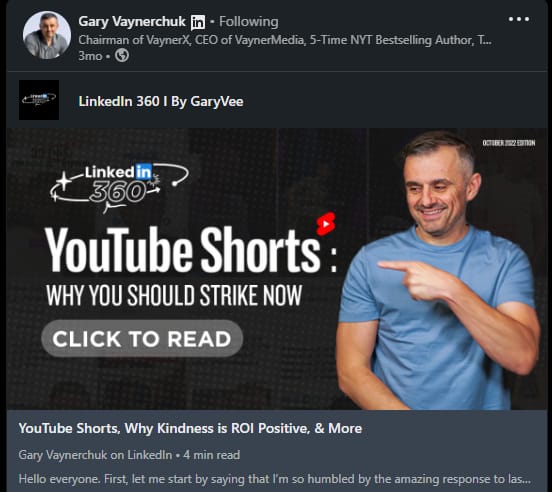 Creative: Image-text posts are unique in their way. The post uses a human image and a textual guide that prompts the audience to read. Every key message is accessible at a glance with a straightforward pathway to the video resource.
Copy: The copy stands simple and direct. It doesn't use any extra compelling words. Instead, it leads the reader to take action. We find it interesting that the human figure and text all direct the audience to take action.
9. Amgen Oncology – Engaging the Audience with Quizzes
Amgen takes the audience on an awareness journey by bringing the audience into an interactive world of self-health.
What we love about this post:
Copy: it's interesting that the copy won the audience's attention with a question and retained it with easy-to-follow graphics. The color code is fantastic, and the slides combine as many basics of Leukemia as possible.
Content: An unaware audience gets a basic understanding of what Leukemia is. The post further spirals the reader into another stage of the awareness test, with a constant reminder of the celebration being WLD22 #BELEUKEMIAAWAERE
10. BGCI – Leveraging User-Generated Content
Want to learn how to weave a hashtag into your content calendar? The BCIG is PRO at it. We find inspiration in the straightforward copy.
Here is what we like about the post:
Creative: Yes, it's a fantastic piece that can inspire creativity. Its simplicity in color and tone is plain astonishing.
Copy: The word "simple" pops up again. We love how the copy didn't take much space, raking the audience through what matters; the Color of Biodiversity.
11. RoboKiller – – Relatable Humor / Creator Collaboration
RoboKiller has mastered the use of relatable humor to pass messages across. Now, this post shows how they can nail it at relatable humor and creator collaboration with @spacekits
What we love about this post:
Concept: The fool the scammer message was not only effectively and humorously passed. The overarching message is to get the app and stop spam calls from scammers, but RoboKiller didn't reveal that monotonously. It employed a relatable storyline and shot sharply with the promotional message creatively, giving the extra scammer a revenge tip.
Copy: The copy is the most relatable of the entire post. It uses the relatable scammer narrative and twists it to let people know that with a particular app, they can fool the scammer. Brilliant, humorous copy! Get the scammers to pee in the pool. Now, who's the fool?
Creative: The video is easy and fun to watch as it keeps one glued within the first few seconds. Who says a good, humorous cartoon cannot serve an advertisement purpose? RoboKiller disagrees with that.
Caption: The caption gave an excellent finishing blow to whatever doubts a post viewer may have concerning the content. It precisely rounds up the advertisement post with a CTA that lets potential app users know why they need the RoboKiller app.
12. Canva – Repurposing Media Coverage
Canva will snatch an opportunity when they see one. This repurposed media coverage post shows us all about it, and we love to see it!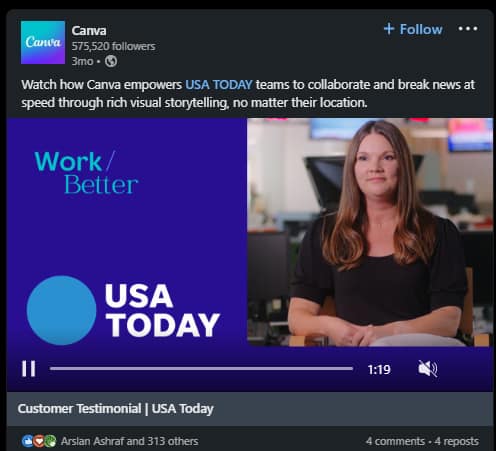 What we love about this post:
Creative: This video shows the live benefits of using Canva; how it has helped USA Today journalists boost and simplify their work processes. It employs storytelling, visual appeal, and color to keep viewers interested. It is also straight to the point in a "this is how our work gets easier simply because we use Canva" way. It's awesome.
Content: We find it laudable that Canva uses rich storytelling with this post's content. It directly states that the app is one of the reasons why a newsroom works seamlessly, as it offers certain benefits of great use to them. It doesn't directly market itself; it repurposes one of its media coverages to do that. Clever!