If Facebook plays a part in your social media marketing mix, there's a high probability you're familiar with their ad platform. Thanks to the ever-changing Facebook algorithm, only a small selection of your fans will see a post at any given time.
When you publish a story that starts building great organic engagement, amplifying your exposure to more people becomes the next goal. And this is where Facebook ads come in. Before I cover that, heed my warning:
Stop "Boosting" Posts!
"But it's so easy" – You've caught yourself saying. And you're not alone. Hundreds of thousands of page managers use the 'Boost Post' button to increase their post reach. It makes it super easy to run a campaign.
Just set the general targeting (to your page's users and location), then the total budget for the promotion. BAM, it's running until budget or time runs out.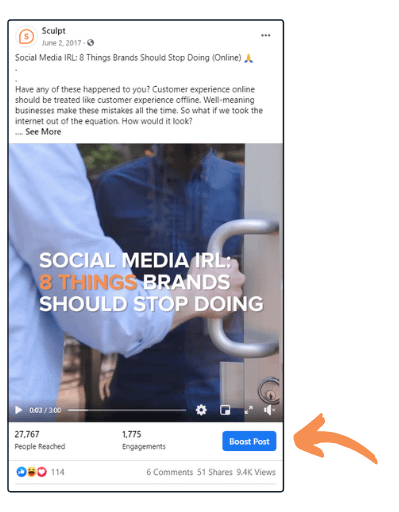 It's so simple and fast!
So what's wrong?
How does Facebook Boost Post work?
When you click the Boost Post button, Facebook creates a new Facebook ad campaign for the post you want to promote. That Facebook campaign is optimized for "Post Engagements", which means reactions, comments, and shares. After you enter your desired targeting, total budget, duration, payment method and you're off to the races. Most people set it and forget it at this point, and the results vary.
Facebook Boost Post vs. Promoted Post: What's the difference?
Truthfully, "boosting", "promoting", or "amplifying" a post implies the same thing. After Facebook introduced the feature, the marketing and business community started using "Boost" as a catch-all for Post Engagement and reach ads on Facebook.
The biggest technical difference between the Boost Post button and manually promoting a post through Ads Manager has always been the number of targeting and bidding options.
That said, the Boost Post feature has seen some significant updates in the last year.  As of July 2020, some of the new updates include:
Advanced demographic and behavioral targeting options
The ability to use and create custom audiences
Conversion tracking with the implementation of pixels (note: only an available option if you have an existing pixel already built)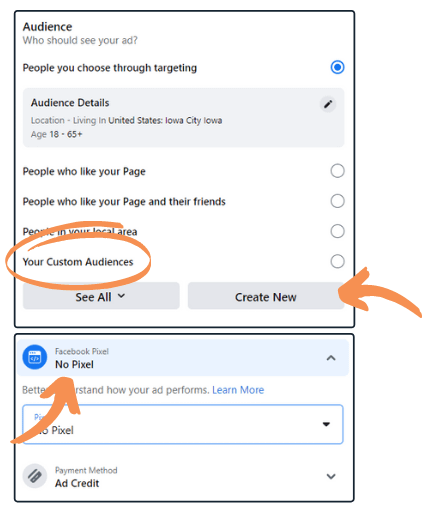 While the targeting and tracking options are now much more robust than previous iterations, Boost Post is still limited when compared to manual promotion. Here are the major limitations we've found:
Limited to one audience at a time
No placement or device targeting (Desktop vs. Mobile vs. Column)
Limited duration of ad flights; there's no ongoing option
Facebook offers far superior targeting options if you use their self-serve ad tool (ad manager) to set up your ad campaigns rather than depending on the limited options available through your Boost button.
When you create precise targets for each ad, you can better determine which audience is performing (engaging/clicking/converting) best for your business.
That's the point, isn't it?
Get the most for your paid social media budget by improving your social media ROI. One of our favorite parts of online advertising is the ability to manage spend efficiently; boosting Facebook posts takes that opportunity away from you.
With Boosted Posts, your ad reaches one audience at a time.
Learning something new about your audience with the Facebook Boost Post method becomes a challenge. To efficiently control your budget while maximizing learning, break out those targeting options!
With Ads Manager, you can create multiple ads from one published (organic) Facebook post by breaking out different targeting parameters and running them head-to-head (i.e. split-testing).
Then, you can easily pause the ads that don't perform after the ad has been optimized (give it at least 2-3 days, or after 2,000 people reached). Want to learn something new with your ads? Try some of these targeting experiments to start:
Separate audiences by age and gender
Target people who like your competitors
Separate ads by placement: mobile and desktop; audience network, newsfeed and right column
Re-target people recently on your website with the Facebook Pixel
Target people with Facebook's various demographics, interest and behavior categories
And that's barely making a dent in the Facebook ad universe.
Boosted Posts are reach based, not lower-funnel objective based.
While reaching more of your current and desired audience is important, there are other business objectives to consider.
Driving in-store traffic? Consider redeemable Facebook "Offers."
Looking to acquire new leads? Conversion pixel-tracked link posts or native lead forms will do the trick.
Starting a 1-to-1 conversation? You can run ads right to Messenger and engage prospects with a chatbot.
Marketing an event? There's an ad type for that too.
Of course, if generating brand and upper-funnel awareness or building an engaged community of customers are priority goals, promoting Facebook posts with the Post Engagement objective will serve you best.
In Conclusion: Where boosted posts offer a quick fix to reaching more people, allocating 5 – 15 minutes to promote Facebook posts properly in Ads Manager and adjust targeting will allow you to maximize your total return on ad spend (ROAS) than ever. And that's one acronym we want to use wisely.
Next time you feel compelled to "Boost" the post, reach for the self-serve tool instead.