Developer Marketing Strategies — Social Media
For Developers on Twitter
Of course, your priority is to share great content — photos, brief videos, and infographics. Share relevant news and updates and what your brand or product has done to make life easier for developers in your Twitter feed.
Tweets from New Relic, for instance, share helpful content and upcoming events and are created to start discussions aimed at helping developers.
Here are some example tweets:
Polish your Twitter bio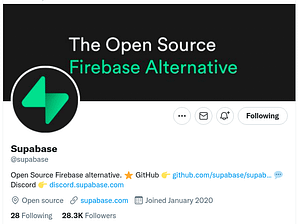 Make sure your bio introduces your most significant product for developers. The tone of the bio should be straightforward.
Create different accounts for each product
For example. Atlassian has an account for each of its product. They have an account for Jira, customer support and an official page.
Use Twitter hashtags
Twitter is great for hashtags, so use community hashtags to your advantage. Some popular hashtags on Twitter for dev communities include #100DaysofCode, #AndroidDev, #JetpackCompose, #javascript, #Python, etc.
Answer questions and engage
Be prepared to answer questions or respond to comments sent to your page, and don't be reluctant to connect with others via Twitter.
There are also helpful tools that can make using Twitter better. For example, you can load and schedule your tweets from the Tweetdeck dashboard.
For Developers on Slack
Most people see Slack as a platform where companies communicate internally.
But it can be so much more. Slack can be a potential goldmine of leads for your B2D company.
With thousands of different communities, you're leaving money on the table if you're not marketing on the platform.
According to EarthWeb's b2022 Slack statistics, over 40% of Fortune 100 companies pay for Slack.
And with more than 10 million daily users, it is an excellent platform to network and connects with potential developers who will be interested in your product.
Building Relationships and Acquiring Developers in Slack Communities
Slack is a great platform to help build community and increase engagement.
For example, WordPress.org uses Slack for real-time interaction and community building.
Steps to Take After Joining a Slack Community
When you join a Slack community, do the following:
Give a brief but impactful introduction of yourself when you join a Slack group: Don't start marketing your product immediately. Instead, introduce yourself by telling the community how much assistance you can offer. This will encourage members of a community to approach you.
Choose your keywords for relevant notifications: Ensure you get involved in discussions where you can genuinely be of assistance. This helps start meaningful conversations. (Your keywords could be 'Javascript,' 'React,' or 'Web3,' depending on your expertise and product.
Build a solid relationship with community administrators: This will make future cross-promotion and partnership easier.
Welcome every new person to the community personally: Yes, each one. And again, you don't have to pitch your product yet, unless it's necessary.
Promote your content in Slack communities: Do not promote all of your content. You'll be perceived as spammy. So strive to show your knowledge when necessary or on special occasions.
Consider the common issues your specific developer demographic faces and the benefits your product or event you're promoting has. Make it personal.
Structuring your content is easier when you ask yourself: "Why would any developer want to use this product?"
The Best Slack Apps for Marketing
Slack communities aren't the only way to build relationships and get leads from your developer audience. Using some tremendous Slack apps, you can leverage your workspace to automate various tasks.
Here are some of the best Slack apps for B2D marketing:
Awario – helps you monitor your competitors' marketing. Like Reddit, you can keep an eye on what people say about your product or competitors.
Yala – Helps you automate publishing your social media posts directly from Slack.
InfluencerBot – A great tool to find influencers that can boost traffic.
Ark and/or Clever for Google Ads – Monitor your Google Analytics account reports and statistics.
For Developers on LinkedIn
Earlier, we said various social media networks for B2D marketing could be used for awareness, learning (communities), and client acquisition.
LinkedIn combines all of these. Here are pointers to note when marketing on LinkedIn:
Social selling: Use your LinkedIn profile to connect with your target audience. As with any social media platform, human interaction is essential to success on LinkedIn. The platform openly encourages it. They give you all the tools you need to identify and converse with your audience. We recommend using the Sales Navigator tool if you plan to progress significantly with your LinkedIn marketing. It's a premium sales tool. It helps you identify LinkedIn developers that meet your criteria without the limitations of a free account. Additionally, ensure your profile is up-to-date and set up for social selling before reaching out to decision-makers. When social selling, focus on the solution your product offers to developers. It's critical to emphasize the value you can provide within the top section of your brand's LinkedIn profile because this is what devs (developers) will look at before accepting your connection request or reaching out.
Create engaging posts: This is a constant in every marketing strategy. Use different types of media content, and create posts that require responses. For example, you can create a poll asking developers to choose the frameworks they currently use or the ones they wish to learn. (Of course, the polls could pose questions about your product, which helps you understand your audience better.)
Use a company page to promote your B2D brand: LinkedIn company pages are a great strategy to show potential developer clients what your product offers. Make sure your company page has a clear call to action if you want it to be effective. Note that LinkedIn members can engage with your content but can't contact you directly. As a result, add your email address, phone number, or website link to help interested prospects reach you. Remember that once you've created a company page, you must post new content regularly. For example, GitHub schedules two LinkedIn posts daily, on average. It's the same with Stack Overflow.
Use advertising to drive direct response: Building organic publicity from your developer demographic and network takes time. Thankfully, LinkedIn allows businesses to advertise to reach out to prospects right away. One of the most valuable features of their advertising platform is the ability to target your audience using granular segmentation settings. You may target particular groups of people based on their job title, rank, or geographic location, to mention a few criteria. Other advertisers strongly influence the costs you pay per click (or 1,000 impressions). LinkedIn won't put all ads on your prospects' timelines, so the competition could be high if several advertisers target similar audiences.
For Developers on YouTube
Devs use YouTube, and you should too. It is not only an excellent platform for community building and learning — it's also fantastic for client acquisition.
Some brands focus their channel on product updates and education. While the biggest brands in the world lean more into entertainment, user education is a perfectly fine strategy for a YouTube launch. Product videos don't typically drive subscribers, but they rank well in SEO and help devs become more informed users.
For example, Cloudera uses its YouTube platform to create how-to videos and tutorials on its products.
Take a look at these videos: These examples are marketing, tutorial, and explanatory videos, respectively, with thousands of views each.
You want to be sure to keep your YouTube channels active, so try posting at least once a week on each. It's better if you can find time to post even more often.
Monitor analytics once a month to learn what types of content are most popular with your viewers.
For Developers on Reddit
A network of communities based on people's interests, like Reddit, is a strategic place to engage in conversations and find developers interested in specific groups and topics.
Reddit is especially good for developer relations. But it's also a great place to market regardless. However, you should know that Reddit marketing means playing the long game.
It also requires following simple rules:
Don't start with marketing: It's highly unlikely that devs will trust a new page with zero posts telling people to use a product. So, be a genuine member first before you begin marketing. Get familiar with how things work, comment threads, terminology, and offer lighthearted jokes. Reddit, like any other platform, will reward you for being active. Commenting increases your karma score, which will help you when you start creating your posts.
Give more to the community than you take: Most Reddit communities want you to contribute 80% of the time and advertise yourself or your product 20% of the time. Of course, this could differ based on content and audience. But members are more likely to trust you and your product when they see you as a substantial contributor who understands their challenges.
Listen to what people are saying about your competitors: As previously stated, Reddit is a potential gold mine of business-related discussions. Customers seeking guidance and recommendations can be found anywhere on the platform. The important thing is that you don't intervene or act. Pay attention. You can better understand where you're thriving or underperforming and how you might improve and position your product by taking the role of an observer in talks about your products or competitors.
Share meaningful content: Don't just post links. It irks Redditors because they do not want to be advertised or used for traffic purposes. Instead, you can copy and paste text from a blog into a post, especially if the content is helpful.
Provide support: Prioritizing support over sales is arguably one of the most significant ways to approach Reddit marketing. Many brands have dedicated subreddit communities where customers can ask questions and get help with challenges.  They establish a direct line of communication between your company and its customers while serving as a public platform for people to seek future solutions and product recommendations.
Host AMAs: AMA refers to "ask me anything." These threads allow Redditors to ask anyone any question. AMAs work well for people or brands with unique stories, excellent products to share, or a strong reputation. Different brands and notable people have hosted AMAs, and still do. For example, Following SpaceX's BFR announcement, Elon Musk had an AMA on the r/space sub to provide further details to enthusiastic fans.  Another example is GitLab's security team's Reddit AMA on Zero Trust in 2019. All successful Reddit campaigns have one thing in common: They're fascinating, engaging, helpful, and create discussion.
For Developers on Quora
Quora is a terrific place for marketers to find out what issues are troubling their present and potential customers.
You can demonstrate your experience and knowledge of a niche and improve your company's brand image by answering questions on Quora.  You want to discuss how your product addresses a problem.
It is truly an excellent platform for direct marketing.
Quora is great for direct marketing. It's similar to Reddit. You can identify and follow topics identical to your product.
But there are some things to do differently here in an app marketing strategy.
They are:
Don't write large blocks of text – Unlike Reddit, where you can write a wall of text, you don't need to do that on Quora. Only do that if the question you're answering requires it. Strive to answer questions as concisely as possible, or no one will read them. But make sure you answer the question.
Answer questions to drive traffic to your product – But don't be direct about it. Instead, make the answer helpful in itself while suggesting how the problem could get better with your product.
Use picture and video content – This helps to keep readers engaged.
Use powerful CTAs – This makes readers want to know more.
Answer questions with lots of views – Focus on answering questions with fewer answers to keep your responses from getting lost in everyone's feed. Navigate to the topic's main page and click on the "most viewed writers" option once you've identified a relevant topic and the most-viewed writers. For example, answer questions where many people are already following the topic — and the more, the better, because people following the topic get an email and in-app notification after answering a question.
For Developers on Instagram
Instagram isn't for everyone. If you want to build on Instagram, consider creating photos or videos that take audiences behind the scenes of your product development. Introduce your team and put a developer advocate front and center.
How often should you post? Aim for one post every week, at the very least.
Of course, this is all from an organic perspective. Because Instagram is part of the Meta network, you might be more likely to expand onto Instagram through the ad platform.