7 Cost-effective social media ideas you can implement right now (without breaking into your paid media budget)
1. Build a LinkedIn Newsletter
Newsletters are like iPhones — they're everywhere. Just ask newsletter giant Substack, who hit over 1 million paid subscribers in 2022 with no signs of stopping.
But you don't have to go the paid route to get people talking. LinkedIn Newsletter lets you create a free newsletter to share your company or C-suite views in an engaging blog-style format (that gets great distribution). LinkedIn users can even comment and react to it, similar to a LinkedIn post.
LinkedIn makes it even easier by removing the email opt-in step and instead allowing for opting in through the reader's notification dashboard, so they never have to leave the screen. They'll even get a notification each time you post a new one.
Similar to your blog posts, these newsletters will have a permanent home on the internet and can show up in the SERPs (hello SEO).
What makes a LinkedIn newsletter great?
It's free to create and share with followers.
Subscribers get notified about the latest publication both in the app and in their email.
Increased reach with the ability to share a newsletter, similar to a social post.
GTM geniuses, Gong, use this free feature to make the most of their insights and keep the conversation going.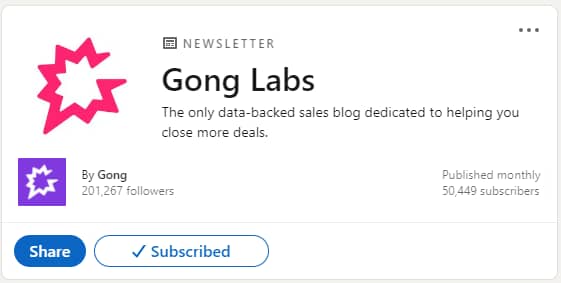 Boston Consulting Group uses LinkedIn newsletters to dive into critical topics related to their service offerings, focusing on trends that matter to leaders.
2. Use your free invitation credit to increase your LinkedIn followers
Did you know that LinkedIn offers every page admin 100-250 invitation credits every month? If you're scratching your head wondering what these credits are, keep reading.
On your company page, each admin can invite their connections to follow the company page. The best part is once they accept your invite, you get the credit back, so you can continue to invite more people.
These invitation credits can be used to:
Invite your new LinkedIn connections
Invite talent/candidates you're recruiting
Invite prospects during the sales process
Invite past and current clients
Invite referral partners
Think of a Company Page follower as someone who's shown interest in your business. This is a big win with no spending. It's a free way to grow your audience with relatively low effort.
Pro tip: Every month, the credits reset. So use them up each month.
3. Engage with brands and trending stories in your business category
Many B2B brands spend too much time on their social media content, and not enough time on their social media community management, and it shows.
But the possibilities are there. Social media is a powerful way to connect, engage, and develop relationships with potential and current customers while also growing brand authority.
Take 20 minutes daily to engage with your followers, comment on other company posts, and join in on the conversations that apply to your industry. See a newsworthy story that relates to your business category? Talk about it. Join the conversation in the comments. The more you engage, the more likely people will engage with you. And if they find what you have to say valuable, they'll reply back or share. And the best part — it doesn't cost a thing.
On Twitter, you can quote a tweet and add your own context. This allows brands to join the conversation and expand their reach — for free.
Use the post topic as a jumping off point and remember to keep things human. You can also use memes creatively.
Another way to earn reach, for free, is to hop into the comments section of others' posts. There's two ways to do this: Proactive engagement and reactive engagement.
Proactive engagement: Remote.com loves to join the conversation about the future of work and ask questions about the things that matter to those speaking about remote work. The company follows #remotework and #workfromhome to easily find the most fitting conversations to join.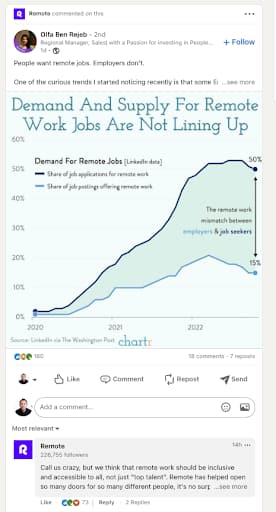 Reactive engagement: If someone tags your company in a post, take that as a warm welcome into the conversation, just like communications giant, Slack. When the company is tagged in a post, they make sure to hop in and acknowledge that person.